Ambrogio L400i Deluxe Robotic Mower (20'000 sm)
We also provide a professional fitting service where we have over 12 years expert experience.

LATEST GENERATION MOTHERBOARD

ZCS CONNECT

HIGH EFFICIENCY BRUSHLESS MOTORS

MANAGE UP TO 8 SEPARATE AREAS

TOUCH DISPLAY

POWERFUL LITHIUM-ION BATTERIES

LIGHTWEIGHT AND ROBUST CARBON CASING

FLOATING CUTTER ARMS

BLUETOOTH & GSM

SLOPES UP TO 45%


"SMART PARTITION" GPS CUTTING SYSTEM
Touchscreen Display
Bumper Of Carbon Fibre Shell
3 Blade Cutting System
Push Stop button
Lawnmower in Charging Station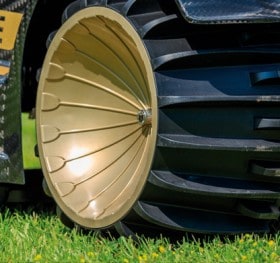 Patented rear wheels for excellent grip on all types of terrain, even on wet surfaces.
AMBROGIO, ALWAYS WITH YOU
APP AMBROGIO REMOTE – More and more User-Friendly and Interactive!
With the ZCS CONNECT MODULE* the future is here and now!
This new ZCS labeled device allows to connect and interact with the robot every time and everywhere (with your own smartphone or tablet).
By using the Remote App Ambrogio it is possible to set up the robot time profiles, verify location (geo localization), isolate and/or work on specific areas of the garden (Go Away), monitor the status of the robot and receive alerts when it comes out of the garden (Geofence alarm, an evolved anti-theft system).
Thanks to the Go Home and Work Now functions, it is possible to force the return to the recharging station and work in the garden.
*Contact your dealer for the operating requirements in your country. Free traffic data for two years. Renewable on expiration.
4.0 TECHNOLOGY
Zucchetti Centro Sistemi has always integrated state-of-the-art technology in its products.
the robot is localised on the map
an evolved anti-theft device
to temporarily exclude mulching in a particular area of the garden
to send the robot to the recharging base
POWER
| | |
| --- | --- |
| Max sq.mt suggested (-20%) | 20000 |
| Motor type | Brushless |
| Lithium-Ion Battery (25,9V) | 4X15Ah |
| Max allowable slope (%) | 45% |
| Max Slope (%) | 35% |
| Slope on the edge or perimeter wire (%) | 20% |
| Average Working Time [h] | 11:00 |
| Recharge mode | Contact |
CUTTING SYSTEM
| | |
| --- | --- |
| Blade Type | 3 x Solid Stainless Steel (4 Edged) |
| Cutting Width [cm] | 84 |
| Cutting Height (min-max) [mm] | 25-85 |
| Spiral Cutting | Yes |
| "Smart Partitions" Zoning | Yes |
| Cut "Predeterminated Path" | No |
| Eco Mode | Yes |
| Rain sensor | Yes |
| Maximum managed areas | 8 |
NAVIGATION
| | |
| --- | --- |
| Navigation Type | GPS Enhanced |
| Compass System | Yes |
| Connect Module (GPS, GSM) – 1 | Yes |
FEATURES
| | |
| --- | --- |
| Weight with Batteries Incl. (Kg) | 49 |
| Robot Size (lxwxh) | 1200x970x380 mm |
| Wheel Profile | Patented Conical |
| Power Sound [dB(A)] | 75-65 |
| Level of Protection | IP21 |
CONTROL DEVICES
| | |
| --- | --- |
| User Interface | Touchscreen Display |
| App Control | Bluetooth-GSM |
| Bluetooth receiver | Yes |
| SMS Alert | – |
SAFETY
| | |
| --- | --- |
| Lifting/Tip-over sensor | Yes |
| Push/Stop emergency Button | Yes |
| PIN Code | PIN & Geofence |
STANDARD EQUIPMENT FOR INSTALLATION
| | |
| --- | --- |
| Perimeter Wire Length (m) | 0 |
| Fixing Pegs | 100 |
| Charging Station | Yes |
| Recharging Station Cover | Optional |