STIHL CHAINSAW MS 201 TC-M Pro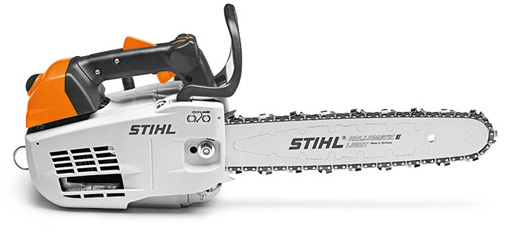 The STIHL CHAINSAW MS 201 TC-M Pro Petrol chainsaw is STIHL's most powerful top handle chainsaw. Comes as standard with M-Tronic and 2-MIX technology, providing optimum engine performance from the start. The captive nut on the sprocket cover allows for quick changing of the chain. The lightweight guide bar reduces the overall weight and keeps the saw perfectly balanced. Featuring our innovative STIHL anti-vibration system, the saw is comfortable to use over longer periods. Top handle saws are specially designed for working in an aerial environment and can only be used by trained professionals. The MS 201 TC-M top handle chainsaw is available in various bar lengths and is ideal for all the tasks an arborist faces on a daily basis.
THIS STIHL PRODUCT CANNOT BE DELIVERED BY THE USUAL DELIVERY/SHIPPING METHODS.
BEFORE ORDERING THIS PRODUCT FOR DELIVERY, PLEASE CONTACT US TO DISCUSS THE OPTIONS AVAILABLE.  02221854
THIS PRODUCT IS ALSO AVAILABLE FOR PICK UP IN STORE.
STIHL CHAINSAW MS 201 TC-M Pro
Standard features
MS 201 TC-M Pro Petrol chainsaw
Technical data
| | |
| --- | --- |
| Displacement cm³ | 35.2 |
| Power output kW/bhp | 1.8/2.4 |
| Power-to-weight ratio kg/kW | 2.1 |
| Weight kg 1) | 3.7 |
| Sound pressure level dB(A) 2) | 98 |
| Sound power level dB(A) 2) | 112 |
| Vibration values left/right m/s² 3) | 3.5/3.1 |
| STIHL Oilomatic saw chain pitch/type | 3/8″ P PS 3 |
| STIHL Oilomatic saw chain pitch/type | 3/8″ P |
1) Without fuel, without bar and chain
2) K-factor according to DIR 2006/42/EC = 2.5 dB (A)
3) K-factor according to DIR 2006/42/EC = 2m / s ²