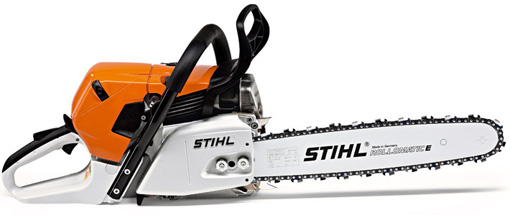 STIHL CHAINSAW MS 441 C-M Pro
STIHL's most advanced pro chainsaw ever! The MS 441 C-M features STIHL M-Tronic, a fully electronic controlled ignition timing and fuel metering system. This modern, low vibration and high performance saw is simple to start and operate by automatically adjusting to the conditions you are working in. The M-Tronic system even remembers your settings from the last time you used the tool for quick and easy use. Optimised power to weight ratio. Very low vibration levels. Up to 20% less fuel consumption and 50% fewer emissions compared to conventional two-stroke engines without 2-MIX technology.
THIS STIHL PRODUCT CANNOT BE DELIVERED BY THE USUAL DELIVERY/SHIPPING METHODS.
BEFORE ORDERING THIS PRODUCT FOR DELIVERY, PLEASE CONTACT US TO DISCUSS THE OPTIONS AVAILABLE.  02221854
THIS PRODUCT IS ALSO AVAILABLE FOR PICK UP IN STORE.
Standard equipment
Technical data
| | |
| --- | --- |
| Recommended bar length cm/inch | 50cm/20″ |
| Displacement cm³ | 70.7 |
| Power output kW/bhp | 4.2/5.7 |
| Power-to-weight ratio kg/kW | 1.6 |
| Weight kg 1) | 6.6 |
| Sound pressure level dB(A) 2) | 105.0 |
| Sound power level dB(A) 3) | 117.0 |
| Vibration levels left/right m/s² 4) | 3.1/3.3 |
| STIHL Oilomatic saw chain pitch/type | 3/8″ RS |
1) without bar/chain
2) Power factor according to DIR2006/42/EC=2.5(dB(A))
3) K factor according to DIR2006/42/EC=2.5(dB(A))
4) K factor according to Dir. 2006/42/EC = 2m/s²