Stihl SH 86 C-E Vacuum shredder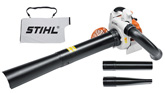 Powered by a low emissions engine, the new SH 86 C-E professional shredder vac/blower has increased vacuum power and shredding performance that will blow you away. Fuel efficient and operator-friendly, this shredder vac easily converts into a handheld blower. Equipped with features like a special shredder blade on the fan wheel that reduces garden waste, along with the STIHL ErgoStart system, soft grip handles and a four-spring anti-vibration system— you have all the necessary comfort elements to ensure a smooth start and help reduce operator fatigue.
Standard features
Reduced-emission engine technology

2-stroke engine with stratified charge. A fuel-free layer of air is created between the burned charge in the combustion chamber and the fresh charge in the crankcase, reducing the amount of fuel lost during the charge cycle. This results in more power with a lower weight, up to 20% lower fuel consumption than regular 2-stroke engines and significantly reduced exhaust emissions.

Manual fuel pump (purger)

A small fuel pump delivers fuel to the carburettor at the touch of a button. This reduces the number of starting pulls required following extended breaks in operations.

HD2-Filter

The HD2 filter, made from polyethylene filter material, has pores that are up to 70% finer than those of fleece and polyamide filters and therefore eliminates even the finest dust. In addition, it repels oil and water and is therefore very easy to clean. The PET filter cartridge can be removed and inserted without tools.

STIHL ErgoStart (E)

A genuine advance in easy starting. STIHL ErgoStart (E) cuts the effort required to start the tool by half, while the starter cord can be pulled at just one third of the normal force. All it takes is 2 fingers and a gentle pull action.

Throttle lock with built-in stop switch

The running machine switches off immediately after a brief press of a button. Once the machine is at a standstill, the ignition activates again automatically, meaning it is always ready to start.

Anti-vibration system

Intense vibration at the handles of power tools can lead to long-term effects on blood vessels in the hands and arms. STIHL has therefore developed an effective anti-vibration system whereby the oscillations from the machine's engine are dampened which significantly reduces vibrations at the handles.
Technical data
| | |
| --- | --- |
| Displacement cm³ | 27.2 |
| Power output kW/bhp | 0.8/1.1 |
| Weight kg | 5.6 |
| Sound pressure level dB(A) 1) | 97.0 |
| Sound power level dB(A) 1) | 105.0 |
| Vibration levels left/right m/s² 2) | 2.5/1.9 |
| Max. air throughput, vacuum mode m³/h | 770 |
| Equipment | Round nozzle / flat nozzle |
1) Power factor according to DIR2006/42/EC=2.5(dB(A))
2) (K) factor according to Dir. 2006/42/EC = 2m/s²
The version(s) available in each country may differ from the above range and specifications; specific details may be subject to change without notice. Please ask your local STIHL Approved Dealer for further information.